Whether you are an early bird who revs up his or her engine before the sun rises to head for the workplace and drives back home after it sets, or whether you are one of those who live their nightlife to the fullest by going on long drives in the late hours.
You probably acquainted with the tediousness that accompanies the dark interior of your car while you're enjoying the road.
In this article, we will give you a thorough walkthrough on installing LED lights to your vehicle's interior. Many of you have a tight budget which discourages you to buy customizing components and then hire a technician for setting those up. After reading this article, you will never have to dial up your mechanic to do the job for you.
Why important to Change Interior Car LED Lights?
---
Unless you are an ardent lover of tungsten lights, you must have to agree with us on how low their intensity does not let one enjoy a soothing vibe–be it driving alone or with the company.
We often find ourselves bothered by the inadequate interior lighting, yet most of us just stick to it without even knowing that there solves this.
Every time we think of lights nowadays, the word LED (Light-Emitting Diode) hits our brain almost at an instant.
The latest occupants of dim and gusty tungsten bulb market–LEDs have created a worldwide phenomenon in the electric industry. They are so much more convenient, soothing, and even aesthetic.
They come in large variations of colors, both subtle and flashy. If you are an aesthete who is looking for a beautiful change to your car's overall appearance, or someone craves a heavenly experience whilst driving, or someone hopes there would be better interior lighting options–LED interior car lights are just the thing for you!
Plus, we are putting up the process step by step so that not only it turns into a more convenient job but also a fun DIY project!
Here are the steps: How to change interior car lights to led?
---
STEPS 1: Identify the Lights
To install led car interior lights, at first you have quickly to scan your car interior to locate the built-in lights you want to take down. LED lights come in several shades and colors; you can choose whoever fits your persona and liking.
Although many states across the United States have specified laws about car modifications and choice of colors while choosing lights, many states are lenient about it unless you break the traffic laws and cause discomfort for other drivers on the road.
STEPS 2: Take off the Bulb Cover
Be sure to not turn on the lights at least two hours before touching the cover/lid that hides the bulb. Since keeping the lights on produces a certain level of heat energy.
It is safe to let the bulb, and its cover, cool down. The covers are usually very sensitive; hence it should be done with care to avoid damage.
It is the car's manual that usually comes up with instructions regarding the removal of covers, but you can also do it by yourself.
Just handle it carefully and use tools. For example, you might need screwdrivers to open some covers in some cars.
STEPS 3: Choose Your Bulbs Wisely
You must determine which kind of LED strip you will use to replace the old lights. Few LEDs are compatible, not every bulb may fit the chambers or the sockets.
It is essential to pick out the one that is the most compatible with the setting the use it. You can consult your mechanic or a professional at the care center to find out which is the best.
The best way to figure out the perfect LED strip light is to examine the connector. It can give you an insight on which type will not end up ruining your DIY enthusiasm by malfunctioning.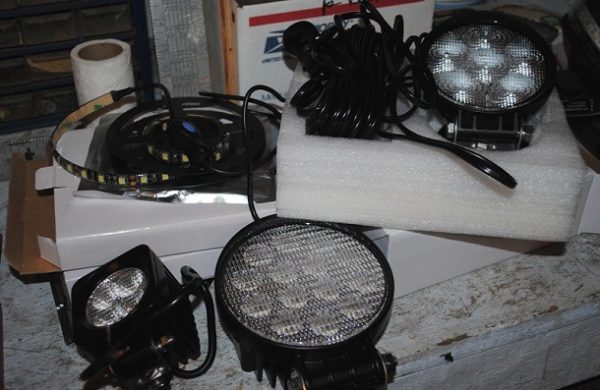 STEPS 4: Connecting the Bulb
I must assure it that the bulb/light strip is in sync with the connector. It won't function if the light fluctuates. Once the LED light strip fully illuminated whenever connected you can proceed to the further steps.
STEPS 5: Shaping out the Back Part
Most LED strips contain a certain amount of adhesive on their backs, which enables them too easily latched to an even surface.
But you have to make sure that the surface is clean and smooth as uneven or dirty surfaces have prime chances of missing the adhesives and your lights thus exposed to falling apart.
Again, it is necessary to take care of the heat the lights generate while working. After that, you can use a metal cutting scissor to shape it out.
STEPS 6: Working with the Wires
You will need two types of wires for this step–one wire to make the positive end and the other to make the negative end.
You must reconnect the terminals as soon as you cut the light strips into smaller pieces, if you cut it. After that, assert 12 volts to the ends as a test to see if they work.
You can attach the bulb and will not need to work with the wires, if it is a bulb.
STEPS 7: Putting up the Glue
You can use some hot, melted glue or liquid glue as forms of adhesive to attach the wires. This step is not mandatory, you can skip it if you don't like the idea but we encourage gluing the metal plate. It can apply a bit of adhesive for extra caution.
STEPS 8: Trying the Supplier
At last, you can solder both of the wire ends to the original metal parts for fastening. You might have to measure the positive and negative areas of the car's connectors sometimes. But most of the cars usually have no difference and it can connect the lights on both sides of the roof connectors.
STEPS 9: Put up the Rest of the Lights
Once you have set up a single strip or a bulb, setting up multiple bulbs and strips becomes easier and much clearer. You might end up working faster and be more comfortable working.
STEPS 10: Go for It!
Put back the bulb's cover, if you are using LED bulb lights, that is. Then plug in the power supply and enjoy your heavenly view of your own car's interior!
LED Lights Benefits:
Let the era of tungsten lights creating a boring aura inside your vehicle! Why keep them when you have fascinating LED lights? Here are some pros of the LED modifications:
LED lights use much lesser energy than the tungsten ones. You will surely notice the enormous improvement when you will start conserving the energy of your car's battery. They are also more efficient than their old counterparts and last longer with a smooth performance.
LED lights are much brighter, making it very convenient for you to find your things in the middle of driving or on a trip without fretting over not being able to see properly. They are not flashy at all and yet help you see well!
Their longevity is unmatched. It is proven that LED lights can effortlessly shine for over 15,000 hours!
They are cheaper than tungsten lights and are very affordable. Plus, you can always do it yourself by putting them up on your own.
Final Words
---
The main purpose of my topics is to present accurate information for your benefit. Hopefully, by following all the above-mentioned information and steps, you will be able to easily transfer the interior LED lights of your car.
Thank you so much for patiently reading this topic in the end.